Hello all,
I introduced myself in the "Introductions" thread. I have been here about a week, but already feel it's home for my Impala and I. Thanks for having me.
The Impala Find:
I had a Craiglist alert set on my phone to tell me of any newly added vehicles from 1928 - 1972.... just looking for my next project. I get a message that a vehicle in my search range was just added. All it said was "1961 Impala Pillared Sedan. 235 Hi-Thrift six cylinder, 3 speed, tuxedo black with turquoise interior. Been in the family for a long time". That was it. No pictures, no mileage, no mention of a city it was in. I actually love those adds. The very short descriptions have usually paid dividends in the past. So a email the person within 5 minutes of the add showing up on CL. Sure enough, it was their grandfather's car, willed to their mother, willed to them. Two owner! I ask for pics and they said the car wasn't with them, it was in a small town of 30 in central Missouri. I asked politely if I could drive the 2 hours to look at it and was told that they wanted to get the car out from under the cover and get better pics. Come to find out, they wanted to remove the car from the late mother's residence and take to their home for safe keeping. I completely understood, but was anxious because I wanted first chance at buying the car. I thanked the person and said I would love to see it when they could get a chance. That was it. No calls, no texts, no emails for 5 days. I figured it was gone.
Five days go by, nothing. Then I get a huge email file sent over to me. The person had went up to where the car was at and took pictures just for me. What I saw was an unrestored, original paint, 2 door Impala sedan. No obvious rust, a few dents here and there, a very tired interior, but all there! I always look closely at the engine pics. I am a stickler for originality. Some of the decals where still intact and most important, some of the tower hose clamps! The tower clamps are the first thing folks used to throw away when working on these cars. It was sooo much easier to install a worm clamp. If I see tower clamps, I'm fairly certain they have never been off!
The owner, come to find out, it was a lady whose mother willed it to her! I complemented her on her descriptions on the email. She said she looked everything up on a Google search. I told her she sounded like she was a fellow motorhead over the email! The only thing she knew about the car was that she, when visiting her mother, would drive the car around the small town just to "stretch it's legs". Her mother also drove it to get groceries at the small Co-op in town.
The following day, she arranged to have the car brought to her friends home, 100 miles away. Once it got there, she said I could come by and look at it. Sure enough, the next afternoon she asked if I would like to see it. Without thinking, I ran out of work, went by the bank, and was on the road. 2 hours later I show up. The Impala was just how I pictured it. It wasn't going to win a beauty award, but it was the most solid pre-65 car I have ever owned. The brakes went to the floor, the throttle wasn't connected, and the tires had seen better days. I crawl all over it and come to the conclusion: I am not leaving this driveway without owning this car. I've wanted and Impala/Belair/Biscayne for a long time! After a bit of back and forth, we come to an agreement. Cash over to her, title and bill of sale to me. Her friend even knew of a tow service who could deliver to my home the next day. Score!
So that's my story. I didn't find out until later that this is actually an interesting car. It was the only year Chevrolet built a 2 door sedan with Impala trim. There was only 6700 out of all 491,000 1961 Impalas that were a 6 cylinder, 2 door sedan. This car didn't even originally come with a radio. Granted this car is not a rare 409 powered Impala or a beautifully sculpted bubble top, but it is pretty darn cool in my eyes.
I plan several things with this car in the coming months. The interior will be getting completely refinished. The brakes will be updated with front discs and dual reservoir master cylinder. I am looking into 20 x 8.5 Intro or Billet Specialties rims. We will be installing air ride suspension. The trunk will get soda blasted and recoated with correct splatter paint. The original paint will be restored as much as possible. I will attempt to find a paintless dent repair person who can massage out the larger bumps in her. Eventually, I'm looking at a mild built small block, 275-300hp. Heck, I'd like to keep the original 3 speed, but that may be crazy talk. I want a family cruiser that can run interstate speeds but still have a little fun at stoplights
With a small garage things will take me a bit longer, but we'll get there!
Again, thanks to everyone who has offer help and advise. You all are great!
The first pics are of the car when the lady went to her late mother's home.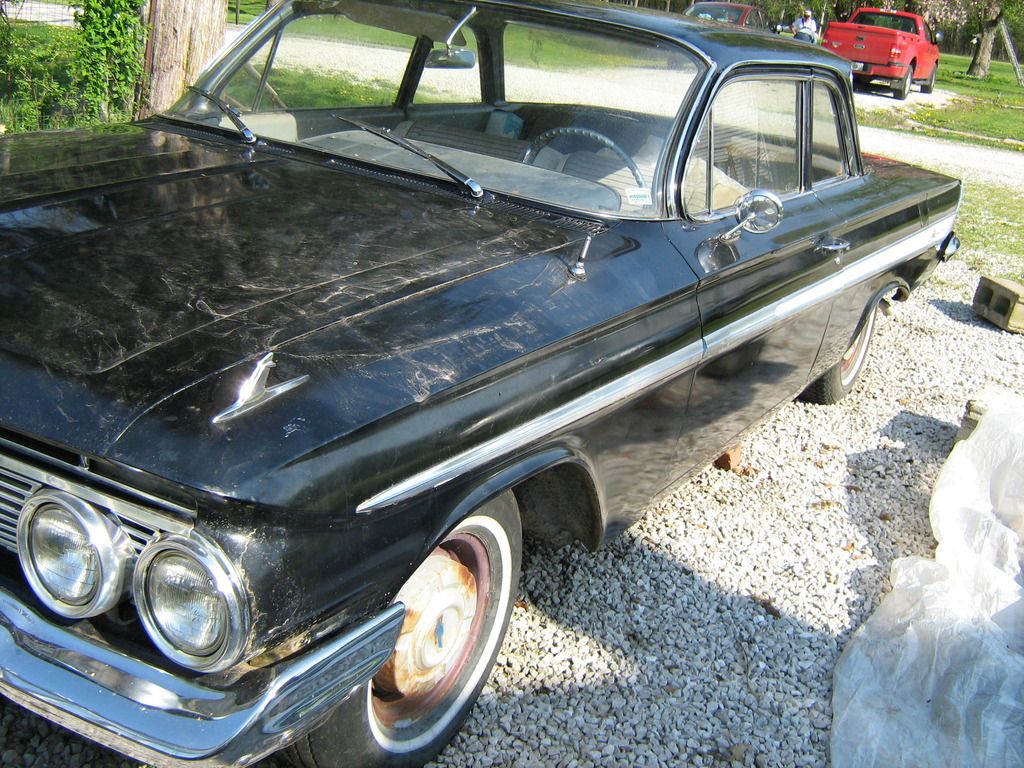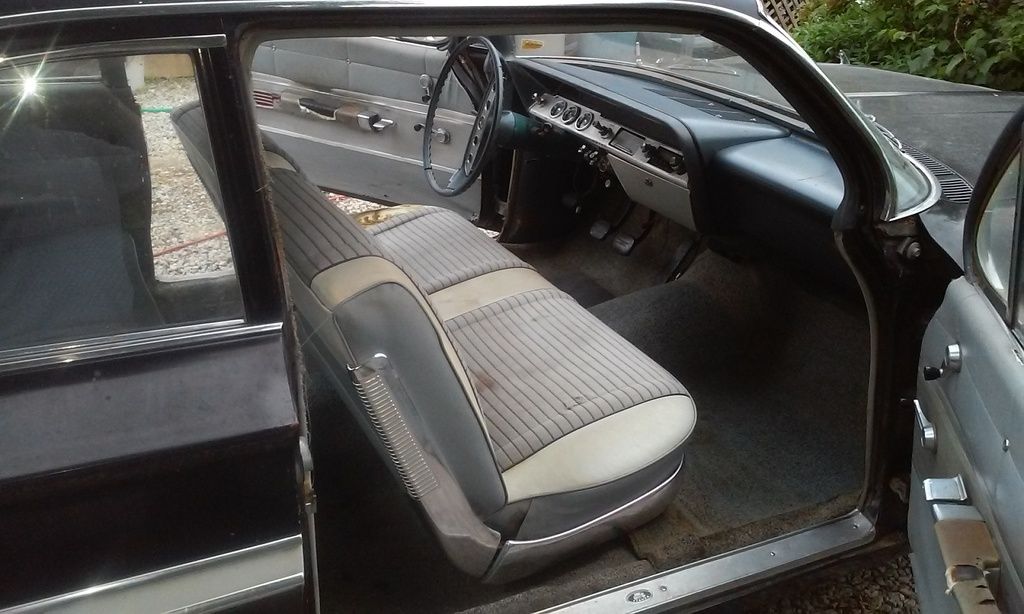 See the oxidation on the hood. I used a bit of polishing compound and it went right back to Tuxedo black. I'll show you a pic where a buffed the fender in a later post. Gotta love that old lacquer!
Thanks for looking. I will get some more pics on here as I have time. As one forum member said, "We love pictures!"
Doug
Last edited: